Kushiro Rosai Hospital
Name: Japan Organization of Occupational Health and Safety, Kushiro Rosai Hospital
Director General: NONOMURA Katsuya,MD,Surgery.D
Address: 13-23 Nakazono-cho ,Kushiro City, Hokkaido Prefecture
Number of Beds: 450

Director General:
NONOMURA Katsuya,
MD,Sur.D
Deputy Director General:
MIYAGISHIMA Takuto,
MD,Int.D
Deputy Director General:
OGASAWARA Kazuhiro,
MD,Sur.D
Departments
Internal Medicine
Neurology
Cardiovascular Medicine Stand
Surgery
Orthopedic Surgery
Plastic Surgery
Neurosurgery
Urology
Gynecology
Ophthalmology
Otolaryngology
Rehabilitation
Radiology
Anesthesiology
Oral and Maxillofacial Surgery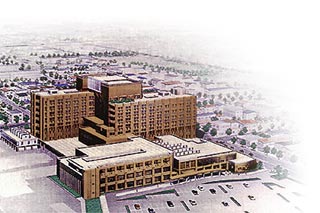 Other Outpatient Clinics
The center for digestive disease
Clinical Laboratory
Outpatient Clinic for the Career woman
Outpatient Clinic for the Quitting smoking
Outpatient Clinic for the Sleep Apnea
Outpatient Clinic for the Second Opinion
Outpatient Clinic for Lymph Edema
History
In January 1960, Kushiro Rosai Hospital started with 252 beds and 7 departments. This year, 2010 we celebrated the 50th Anniversary. Our hospital covers with the medical care for East Hokkaido Prefecture. The construction of the new hospital building was completed in 2001. A new chapter of Kushiro Rosai Hospital began with 450 beds and 18 departments and sub-departments. Kushiro Rosai Hospital now serves as the major regional medical center for acute care, with the latest technology and equipment and the highly-skilled staff.